Flores Tree Service Can Help With All Your Stump Grinding/Removal Needs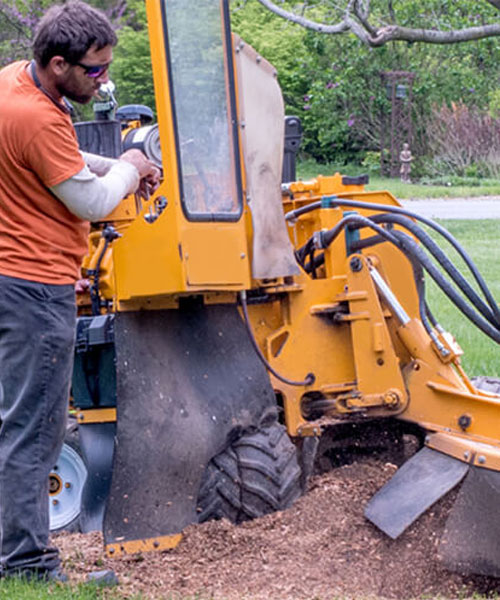 Stump grinding is a less invasive and cost-effective option to stump removal. This procedure involves shredding the stump into woodchips with a machine. Grinding is a quicker and more efficient way to remove unsightly stumps in your yard. It also removes the tree's external traces while leaving the subsurface roots untouched.
Aside from boosting the exterior appearance of your home and freeing up space in your yard, tree stump removal also prevents rotting and pest infestations. Neglected tree stumps are a source of disease and pests. Termites, beetles, carpenter ants, and other wood-boring insects have no place on any property.
Maybe you are considering DIY. We are warning you! DIY tree stump removal may save you money in the short term, but it will cost you time, dollars, and stress in the long run. Only expert arborists should grind down tree stumps. When using heavy machinery, an amateur risks significant injury. Chainsaws and grinders are potentially harmful tools with harmful consequences. You will receive an affordable rate and a refreshed landscape as a result. 
Why Hire Us for Stump Grinding Service?
We are eager to help you with your tree stump grinding needs in Bucks & Montgomery County. Our team of experts will help you remove the tree stump and clear your yard. The grinding of tree stumps is not a task for a novice. To deal with it, you will need the help of an expert. You risk damaging your property and injuring yourself if you don't get professional help.
Flores Tree Service offers a team of skilled professionals. We can assist you with your tree stump removal project and provide safe & hassle-free services. You can count on our licensed tree stump grinding/removal professionals. We will eliminate unwanted stumps from your property. We will work hard to preserve your backyard's former glory by perfecting its shape and symmetry. To get a free quote, call Flores Tree Service for tree stump grinding service, or fill out our contact form.